Sports & Recreation
The Kroc Sports & Recreation department is full of fun sports camps and leagues for all ages. Check out all the fun opportunities that we currently offer. Is there a sport or program that you would like to see offered at the Kroc? Drop us an email and let us know what sports programs you are interested in today!
Gymnasium
Our Kroc gymnasium is available for families, friends, individuals, etc. to play basketball and a variety of other sports. See class schedule or a Welcome Desk Attendant for details. Basketballs can be checked out at the Control Desk.
Kristy Stegeman
Sports & Recreation Specialist | 217-231-5635
Advance registration is required for all leagues and registration deadlines do apply. Space is limited. Registration forms available at the Control Desk. The Kroc Center reserves the right to cancel any program if minimum participation requirements are not met.
Volleyball
DIG IT! Volleyball Camp
$40 Members | $50 Non
Grades 3–5 M-F, June 6-10 | 9-10:30am
Grades 6–8 M-F, June 6-10 | 10:45am-12:15pm
Grab your knee pads and lace up your shoes, this is one camp you don't want to miss. Join the HLGU Volleyball team and Head Coach Maliah Blakemore for a fun, exciting, and memorable volleyball camp.
NEW! Jr. Spikers LEARNING
Volleyball League
$50 per person. Includes t-shirt.
Tuesdays, June 14-Aug 9 | 5:30-10pm
Open to incoming grades 3-4.
Individual sign-ups. Designed to help introduce and improve both fundamentals and skills with an emphasis on fun, sportsmanship, hard work, and character development. After the first week of practice, players will be divided into separate teams within their age-group. Competitive balance will be sought while creating each team. Players must be the age indicated by the first day of practice to enroll within that age-group. Incoming grades. Space is limited and for planning purposes, team assignments are final. No class July 5.
Register by June 9 .Call 217-231-5635 to register.
Jr. Spikers Volleyball League
$330 per team
Grades 5–6 Mondays, June 13-Aug 8 | 5:30-10pm
Grades 7–8 Wednesdays, June 15-Aug 10 | 5:30-10pm
Play in youth girls volleyball league this summer! The league will follow IHSA girls volleyball rules. All teams will get shirts provided to wear as uniforms for up to 8 players and 1 coach, additional player t-shirts can be purchased at $10. Team sign-ups only. Incoming grades. No class July 4 and July 6. Want to be a volunteer coach? Please contact Kristy at 217-231-5635!
Pom Pon & Dance Camp
Member $30 | Non-Member $40
M-Th, June 13-16 | 10-11am
All girls and boys (ages 3+) are welcome to come show us your dance moves! Pom Pon and dance instruction by the Quincy Notre Dame IDTA State Champion Pom Pon team and coaches. Campers will get the chance to perform at a Quincy Gems baseball game. Camp T-shirt included with registration fee. Spaces are limited. Parents can purchase game tickets for the performance through the Quincy Gems.
Registration extended to June 13. Contact Kristy for details.
Kroc Tots Multi-Sports Camp
$40 Members | $50 Non
T-F, July 19-22 | 8:30-10am
Ages 5–7 ( Grades K–2nd)
A challenge for many parents is knowing which sport their child may or may not be interested in. In the Tot Multi-Sport class, you can sample some sports that are offered in the area! Your child will be introduced to basketball, volleyball, soccer, and more! Each camper will receive a water bottle.
Register by July 11. Call 217-231-5635 to register.
Ninja Training
Members $40 | Non Members $60
Get ready to have fun on this ninja training course! This high-octane combination of obstacle training, martial arts, gymnastics, and freestyle movement is designed to harness the limitless energy of young children for a total body workout that builds strength, endurance, and character.
Ages 4-5
Tuesdays, June 7-28 | 4:15-5pm
Tuesdays, Aug 9-30 | 4:15-5pm
Ages 6-7
Tuesdays, June 7-28 | 5:15-6pm
Tuesdays, Aug 9-30 | 5:15-6pm
Call 217-231-5635 to register.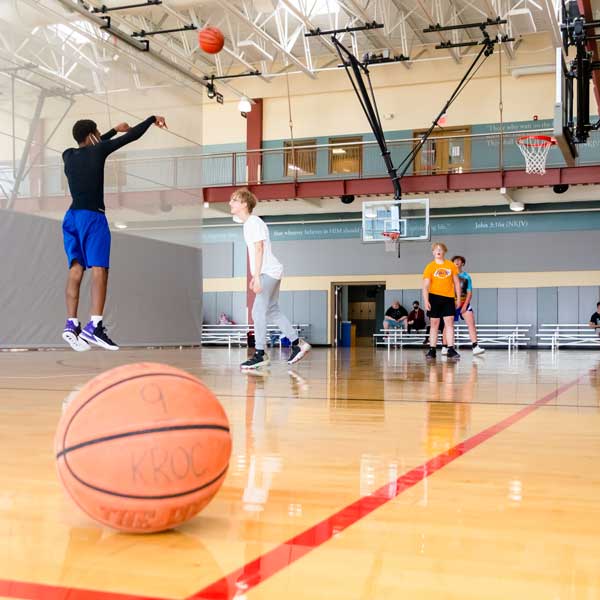 Men's Basketball Leagues – Returning Fall 2022
Men's Full-court 5 vs 5 Basketball Leagues
Games consist of two 20-minute halves with a running clock. The league is open to adults ages 18+. Teams may roster up to 10 players, players may only play on one team in the league. Teams are guaranteed 8 games.
Adult Pickleball
Returning Fall 2022
Youth Golf Club Rentals
Each set includes:
• Golf Bag & Youth Clubs
• Set size is based off the child's height.
• Please have height info when registering.
• Limited availability.
• Must pick up at & deliver back to The Kroc Center
Members climb for FREE!
Rock Wall
ALL MEMBERS CLIMB FREE!
Non-Member Youth $3 | Adult (18+) $5
Wednesdays 4-7pm | Saturdays Noon-5pm
Looking for a challenge and a unique workout? The Kroc Rock Climbing Wall is one of the exclusive features our facility offers free to our members and is the go-to wall in the area!
Climbing builds confidence, focus, and critical thinking skills. Experienced instructors are always on hand, during climbing hours, to belay and show proper techniques.
The Rock Wall is available to ages 3 and up. Those 11 years & under must have a parent/guardian present. Ages 12–15 must have a parent in the building while ages 16+ may be alone. Additional optional shoe rental charges may apply.
Click here for current venue hours. Signed waivers are required.